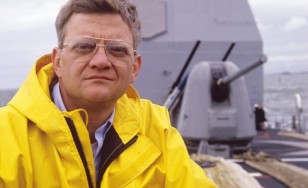 Tom Clancy passed away October 1st at the age of 66. His impact on the world of entertainment is so vast that it would take considerable effort to measure. The best-selling novels written by Clancy have spawned various movies and video games, not including the ones they've directly or indirectly inspired others to create from unrelated works.
While we don't currently review books or video games on this site, movies are a main focus of our efforts, we can celebrate the four main films spawned from the work of Tom Clancy.
The films listed below center around the Jack Ryan character, with whom Tom Clancy has become synonymous. Critics of the films cite the order in which the films were released, the changes from the source material, and the fact that the primary protagonist saw as many actor changes as what the Batman films of the 1990's experienced – three actors over four films.
Hunt For Red October (1990)
Brief Synopsis: "In 1984, the USSR's best submarine captain in their newest sub violates orders and heads for the USA. Is he trying to defect, or to start a war?" (IMDB)
Key Cast And Crew:
Sean Connery, Alec Baldwin, Sam Neil, James Earl Jones
Featured Review:
Patriot Games (1992)
Brief Synopsis: "When CIA Analyst Jack Ryan interferes with an IRA assassination, a renegade faction targets him and his family for revenge."
Key Cast And Crew:
Harrison Ford, Anne Archer, Thora Birch & Samuel L Jackson
Featured Review:
Clear And Present Danger (1994)
Brief Synopsis: "CIA Analyst Jack Ryan is drawn into an illegal war fought by the US government against a Colombian drug cartel."
Key Cast And Crew:
Harrison Ford, Willem Dafoe, Anne Archer, Thora Birch, Benjamin Bratt
Featured Review:
Bryan Lienesch – 87/100 – "A first-rate political thriller. But like everything in D.C., it takes far too long to come to a resolution."
The Sum Of All Fears (2002)
Brief Synopsis: "CIA analyst Jack Ryan must thwart the plans of a terrorist faction that threatens to induce a catastrophic conflict between the United States and Russia's newly elected president by detonating a nuclear weapon at a football game in Baltimore."
Key Cast And Crew:
Ben Affleck, Morgan Freeman, Bridget Moynahan, James Cromwell, Liev Schreiber, Ron Rifkin,
Featured Review:
Future Films
Though Rainbow Six and Splinter Cell have been wildly successful video game franchises, neither have been translated to the big screen.
Currently in post-production, JACK RYAN: SHADOW ONE is next in line to hit theaters. Chris Pine becomes the fourth actor to portray the film's titular character. Prior actors starring as Jack Ryan were Alec Baldwin, Harrison Ford and Ben Affleck.