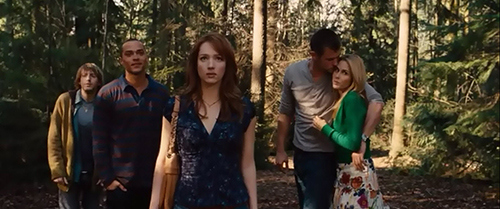 Cabin In The Woods
"Five friends go for a break at a remote cabin in the woods, where they get more than they bargained for. Together, they must discover the truth behind the cabin in the woods."
Why did I include this film? For quite a while, it was among the top rated movies here at Half Popped. It's Top 5 from 2011 and it's rated 80% or better by 17 out of the 20 people who have reviewed it.
Starring: Kristen Connolly, Chris Hemsworth, Jesse Williams, Bradley Whitford and Richard Jenkins
Directed by Drew Goddard
Written by Joss Whedon and Drew Goddard
FEATURED REVIEWS:
Colin Flanagan of Flubs – 97/100 – (full review)
Tim The Film Guy – 95/100 – (full review)
Bryan Lienesch – 88/100 – "A funny, thrtilling horror flick that turns the genre on its head? What's not to love?"
For more reviews for The Cabin In The Woods on Half Popped Reviews click here!